What are the features of offshore production
Natural gas fields occur not only on land. There are also offshore deposits: oil and gas are occasionally encountered in the subsurface covered with water.

Shore and shelf
Geologists survey both onshore and offshore areas. If a field is close to the shore, in a coastal area, then directional wells are drilled from the shore towards the sea. Fields that are farther away from the shore belong to the shelf area. Underwater continental edge having the same structure as the shore is called "shelf" and its boundary is the crest – a steep difference in depth. Floating platforms and rigs are used for such fields, or simply high piles from which they drill if the depth is shallow.
Three main types of floating rigs – special platforms – are used for hydrocarbons production at offshore fields: gravity-based, semi-submersible, and self-elevating.
For shallow depths
Self-elevating platforms are floating pontoons; the rig is installed in the middle, and support columns are placed in the corners. At the drilling area, columns are lowered to the bottom and sank into the ground, while the platform is elevated above water. Such platforms can be huge with premises for workers and crews, helipad and on-site power plant. They are used at shallow depths and their stability depends on the seabed quality.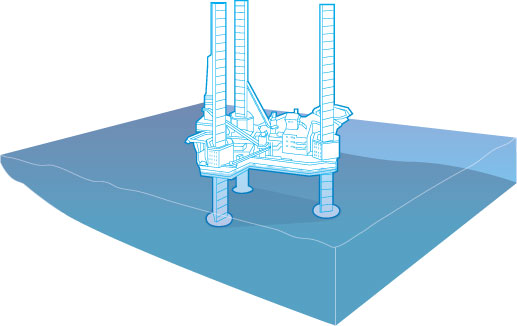 At greater depths
Semi-submersible platforms are used at great depths. Platforms are not elevated above the water but float over the drilling site held by heavy anchors.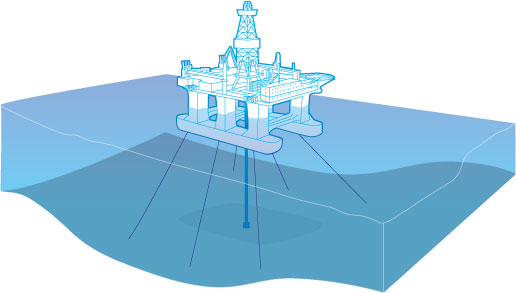 Gravity-based drilling platforms are most stable as they have a thick concrete base supported by the seabed. Drill strings, storage tanks, and pipelines are integrated with this base, while the rig is located above the base. Dozens and even hundreds of workers can live on such platforms.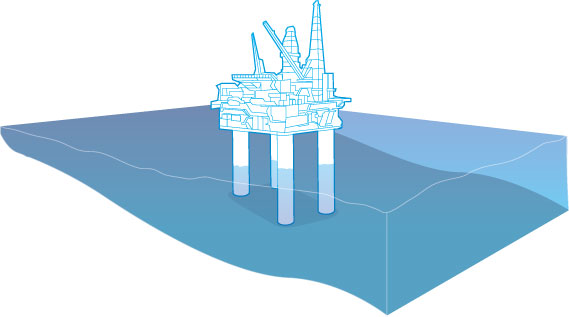 Gas produced on the platform is transported for treatment either on special tank ships or via subsea gas pipelines (as, for instance, in the Sakhalin-2 project)
Offshore production in Russia
Since the world's largest shelf with many deposits belongs to Russia, the development of the offshore production is very promising for the oil and gas industry. Sakhalin Energy started to drill first Russian offshore wells for gas production at the Lunskoye field offshore Sakhalin in 2007. Production of gas at the Lunskaya-A platform started in 2009. Today, the Sakhalin-2 project is one of the major projects implemented by Gazprom. Two of three gravity-based platforms installed on the shelf of Sakhalin are the heaviest offshore structures in the entire history of the international oil and gas industry.
Furthermore, Gazprom is implementing the Sakhalin III project in the Sea of Okhotsk and preparing the Shtokman field in the Barents Sea and the Prirazlomnoye oil field in the Pechora Sea for development. Geological exploration is carried out in the offshore areas of the Ob and Taz Bays.
Gazprom also works offshore Kazakhstan, Vietnam, India, and Venezuela.
How is the subsea gas production system arranged
Currently, there are more than 130 offshore fields worldwide where offshore techniques for hydrocarbons production are used.
The offshore gas production geography is rather dispersed: it covers shelves of the North and Mediterranean Seas, India, Southeast Asia, Australia, West Africa, North and South America.
In Russia, Gazprom will erect the first production system offshore Sakhalin as part of the Kirinskoye field pre-development. It is also projected to apply submerged technologies in the project for the Shtokman gas and condensate field development.
Producing "spider"
A subsea production system with several wells features a spider configuration with a manifold as its body.
The manifold is a part of oil and gas equipment representing several pipelines usually fixed to one base, resisting high pressure and coupled according to a specific design. The manifold gathers hydrocarbons produced from several wells. The surface equipment running a well is called a Christmas tree or X-tree. Several X-trees may be integrated and fixed by one template (seabed plate) like eggs in a basket. A subsea production system also includes control systems.
In terms of sophistication subsea systems may vary from an individual well to several wells drilled in a template or gathered near a manifold. The output may be delivered from wells either to a floating production vessel for extra treatment or immediately to the coast if it is near.
Hydrophones for dynamic positioning of a vessel
Vessel has diving equipment
Midwater arch buoy supporting risers on way to vessel
Produced gas moves from bottom platform to floating unit via flexible risers

Riser has 36 centimeters in diameter
Subsea production system is mounted by specialized vessels that should have diving equipment for shallow water operations (several dozens of meters) and robotic equipment for deepwater operations.
Manifold protection structure is 5 meters high
Burial depth of manifold columns is 0.5 meters
Background
Subsea hydrocarbons production technologies started developing since the mid-1970s. The subsea wellhead equipment was first used in the Gulf of Mexico. Nowadays, around 10 companies worldwide manufacture subsea equipment for hydrocarbons production.
Initially, subsea equipment was only needed for oil extraction. First projects reduced the reverse pressure (backpressure) in a reservoir using a subsea pressure injection system. Gas was separated from liquid hydrocarbons under water, then liquid hydrocarbons were pumped to the surface and gas went up under own pressure.
Gazprom is confident that utilization of subsea production systems is safe. However, such sophisticated technologies require best-skilled personnel, therefore, in recruitment for offshore projects the priority is given to engineers with an extensive track record of field operations. This approach will reduce the risks of accidents similar to the one that occurred at the BP drilling rig in the Gulf of Mexico that has been caused exactly by the human factor.
At present, offshore production technologies make it possible to extract hydrocarbons, separate gas and liquids, remove the sand from products, re-inject water into the reservoir, treat and compress gas off the shore as well as to monitor and control these processes.
What are producing "spiders" required for?
At first, offshore technologies were only used at mature fields as they increased the hydrocarbons extraction rates. Mature fields usually feature low reservoir pressures and high water content (plenty of water in the hydrocarbons flow). Water separated from the hydrocarbon flow is injected into the reservoir in order to raise the pressure that would lift hydrocarbons to the surface.
However, new fields may also show a low initial reservoir pressure. Therefore, submerged technologies started to be used both at new and at mature fields.
Besides, performing some of these operations under water reduces costs on huge steel structures. In some regions, it is expedient to produce hydrocarbons under water throughout the entire chain. For instance, such an option may be used in the Arctic region where surface steel structures may be damaged by icebergs. If the sea is too deep, utilization of a subsea system instead of huge steel structures is a must.